UBS Payroll Software
Streamline payroll processes, reduce cost, and increase productivity. Access UBS Payroll empowers start-ups and small businesses with complete control over your payroll.
More than just a Access USB Payroll System
Process payroll seamlessly and efficiently.
What's in UBS Payroll Software
1st or 2nd half monthly payment
Auto calculate EPF, Socso, EIS, PCB
Submit EPF, Socso, EIS, PCB to banks
One-click email payslip to all employees
Advanced and Loan auto deduction
Customizable 17 types of Payslip
17 types of fixed or variable allowance table
15 types of fixed or variable deduction table
6 OT fixed rate or auto calculate table
Yearly or Monthly Bonus and Commission
Yearly and Monthly Statutory Reports
HRDF, Foreign Levy, Zakat, ASN, Tabung Haji
Comprehensive Access USB Payroll Management System
Feature-rich and easy-to-use, process payroll confidently with Access UBS Payroll (formerly Sage Payroll). We ensure every payroll transaction is accurate, secure and compliant with payroll legislations.
Stay compliant
Legislative updated to ensure compliance with EPF, SOCSO, EIS and LHDN requirements.
Analyse your payroll
Harness the power of Access Analytics for insights on your workforce and payroll.

Multiple companies
Set up multiple companies and manage payroll seamlessly with one solution.
Comprehensive HRMS
HRMS features including employees leave, submit claims, performance appraisals  
Pay employees on time
Manage employee's pay, bonuses and incentives based on user-defined criteria and formulas.
Enable flexible payroll
Access UBS Payroll's mobile license feature enables users to access the system from home.
Integrate with UBS
Seamlessly integrate your Access UBS Payroll data with Access UBS Accounting.
Store employee records
Centralise your employee data, leave records, salary, EPF contribution and more.
Seamless  Processing
Built with an intuitive user interface enables quick and seamless payroll processing. The entire payroll process – from data preparation and statutory calculation, to report preparation and bank file submission within a single screen.
Experience all new UBS Payroll
Commonly used payroll features are grouped together in modern-looking display screens, enabling you to easily manage employee records, process payroll and retrieve reports.
Harness the power of Access UBS Payroll now
The installation process for Access UBS Payroll is simple. Set-up wizards and built-in help centre features are also available to guide users during installation.
Expert Help and Support
Our customer support team are on-hand to assist you via remote access, phone or email.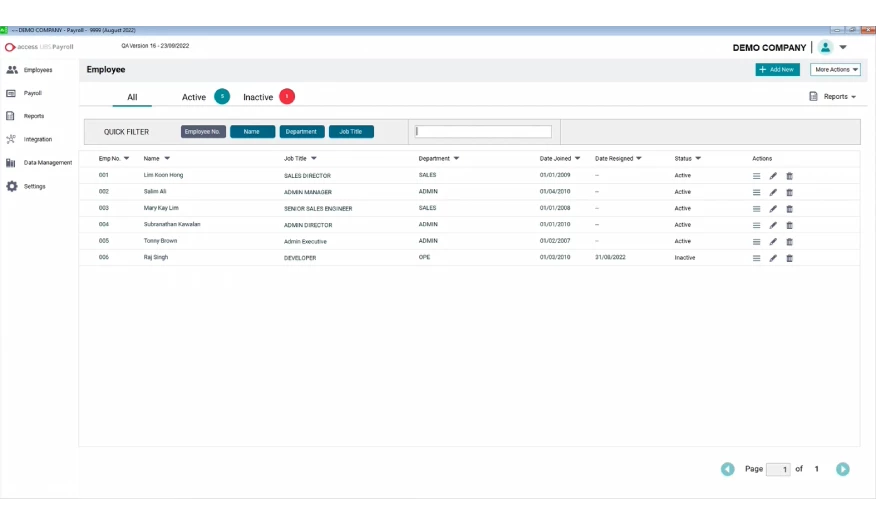 Employees
The employee management feature enables users to easily add, delete or make changes to employee records. Employee information can also be accessed quickly with the search tool which allows employees to be searched by name, department or job title.
Payroll
Process payroll efficiently and accurately. The entire payroll process – data preparation, payroll processing, report generation, and payslip printing – can be completed end-to-end within a single screen.
Reports
Retrieve payroll information easily with Access UBS Payroll's report feature. Employee, payroll, statutory and bank reports are grouped and centralised, enabling users to access the required information conveniently.
Integration
Access UBS Payroll's data integration capabilities enable data to be easily imported for payroll processing. Payroll information can also be posted seamlessly to Access UBS Accounting, Ecoleave and Fingertec.
Data Management
Manage your company's payroll data with ease. Configure payroll data, perform data checks and maintain payroll categories easily with Access UBS Payroll's Data Management functionalities.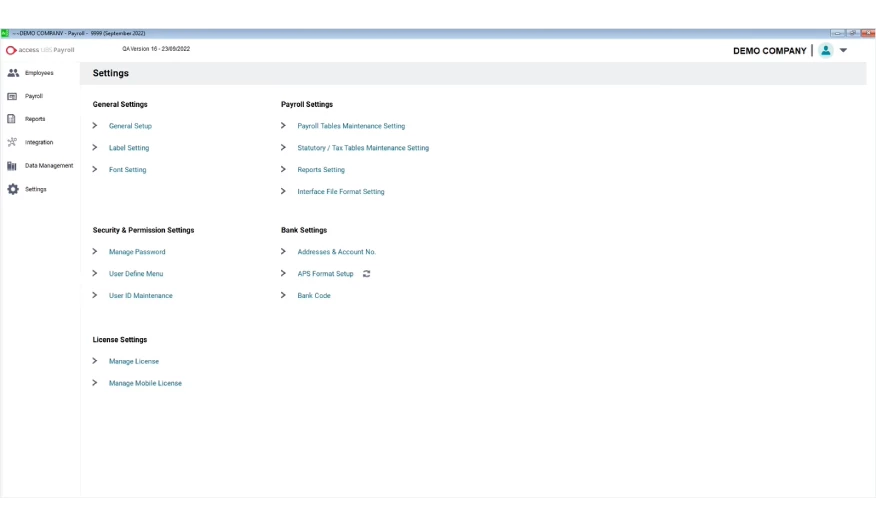 Settings
Leverage the Settings function in Access UBS Payroll for greater security and user control. You can also change payroll and bank settings to align with your company's requirements.
Frequently Asked Questions
Access UBS Payroll Software FAQ
1. Is there any trial version?
We can install free 30 days trial version or 500 transactions whichever come first, without any obligation from you.
2. How many company can UBS Payroll software support?
You may create un-limited companies for all UBS Payroll software.
3. Is the software license lifetime?
Software license is valid for lifetime but bear in mind that some old UBS versions may not compatible with new MS Window version.
4. What is Access Cover (Sage Cover)?
Optional yearly Access Cover subscription is for user to enjoy free upgrade and other benefits. 1st year Access Cover is free.
5. What if I do not renew Access Cover?
If you do not renew Access Cover, you still can use the software existing version forever without upgrade.
6. What do you mean by single user?
Single User can only be installed to one PC or laptop. You can purchase additional concurrent user for Local Network User
7. Does UBS Payroll support cloud?
UBS Payroll Software is a desktop on-premises Window application but we can host it on cloud with a yearly fee allowing remote access from anywhere, anytime.
8. What is a mobile license?
Free mobile license for valid Access Cover allows user to temporary transfer license from office PC to home laptop or vice versa.
9. What is the different between Payroll 15, 30, 60, 100, 150 and Premium?
Payroll 15 limited to 15 employees per company, 30 limited to 30 employees and so on while Payroll Premium support unlimited emloyees.
10. Do you provide training and assistance whenever we encounter issues?
We do provide on-site or online training by experience consultant and support maintenance contract for a fee.
11. Can I transfer license to another PC or laptop?
You can transfer license from one PC or laptop to another in 2 ways namely:-
a. De-activate exiting PC and re-activate new PC anytime by yourself within minutes if existing PC still intact.
b. Re-issue license with filled-in form forwarded to our principal to manually de-activate license within 4 office hours.
Both methods entitle free 3 times per year for valid Access Cover and one time for expired Access Cover less than 4 years. Admin charges will be impose for additional transfer. Access Cover expired more than 4 years require upgrade with a fee to transfer license.